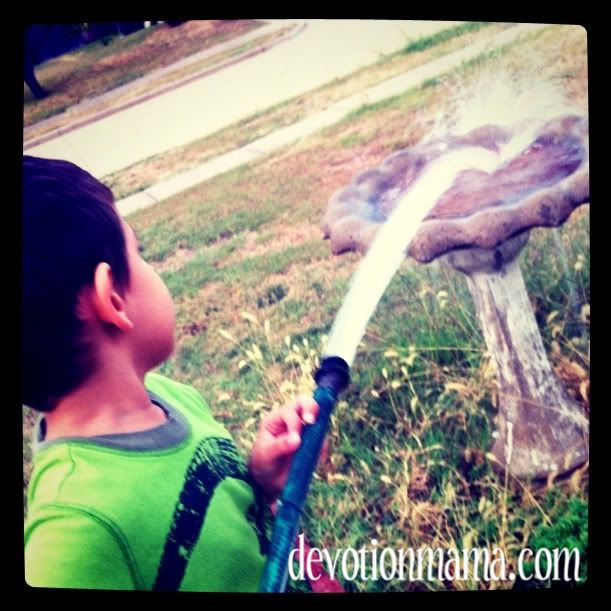 The water rushes as small hands grasp the garden hose. The land parched by months of drought soaks up the cool stream as it passes over the plants, grass, and trees. In times like these patches of green mix with brown as the grass struggles to survive through the scorching hot days of a Texas summer where rain is often prayed for, but rarely seen.
And Grande's favorite part of helping his Abuelita comes at the end. He aims the spray of water at the birdbath and watches as it splashes and overflows. And I watch his excitement. It's a beautiful sight the overflow of that cool, clear water.
But it's not just the abundance that makes it beautiful. It's the water. It's the beauty of the water itself. It's purity. It's goodness.
Imagine the same scene with sticky black tar coming out of the hose. The picture loses it's beauty.
When it comes to overflow and abundance we all have it. Whether we have an overflow of goodness or evil depends on what we have stored in our hearts.
Is our overflow beautiful?
A good man brings good things out of the good stored up in his heart, and an evil man brings evil things out of the evil stored up in his heart. For the mouth speaks what the heart is full of.
Rivers of living water will brim and spill out of the depths of anyone who believes in me this way, just as the Scripture says.